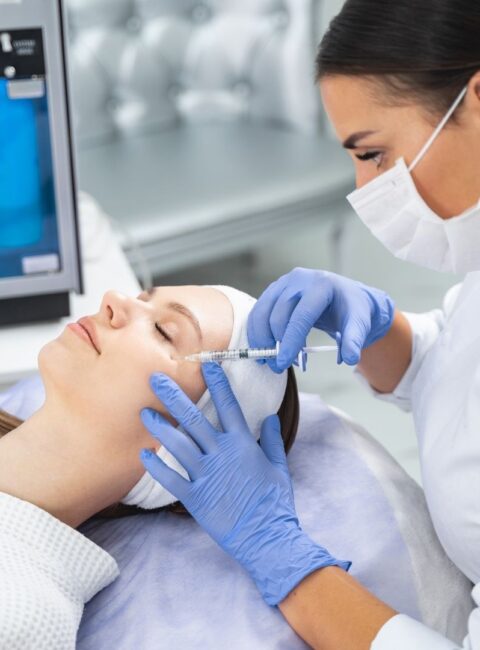 Under-Eye Filler in Silver Spring
Starting to notice dark circles under the eyes from lost volume? Or perhaps unflattering lines and wrinkles underneath? These are some of the first signs of facial aging, and they can take a toll on your confidence. Luckily, tear trough filler, or under-eye filler can remedy those unsightly lines and dark circles.
Under-eye filler is a form of dermal filler, typically made with hyaluronic acid, designed to reduce the depth of your tear trough and smooth the skin.
Why Choose Under-Eye Filler?
Aging is inevitable, but that doesn't mean you have to accept the hit to your confidence. Under-eye filler is an excellent and safe solution for patients wishing to soften their dark circles and minimize fine lines such as crow's feet. It is quick, easy, and doesn't require any downtime afterward!
What Does Tear Trough Filler Feel Like?
As with most fillers, under-eye filler contains a numbing agent in the injection itself, and your injector can provide a topical numbing cream as well. You're more likely to feel a sense of pressure than pain during this procedure.
When Will I See Results?
You may have minor bruising and swelling for the first two to three days. As this dissipates on its own, you'll begin to notice a difference in your tear trough area, but it'll take one to two weeks to see your final results. Follow all aftercare instructions for best results.
Am I a Good Candidate for Tear Trough Filler?
Due to the delicate nature of this area, a consultation with a board-certified injector is necessary to determine whether this is a suitable procedure for you. So long as you're in good health with healthy skin and realistic expectations about treatment, you should qualify.
Where Is the Best Place to Get Under-Eye Filler in Silver Spring?
Look no further than W Med Spa for all your dermal filler needs! Contact us today at 301-681-8000 to schedule your consultation, and let us help you achieve a more youthful look without cosmetic surgery!