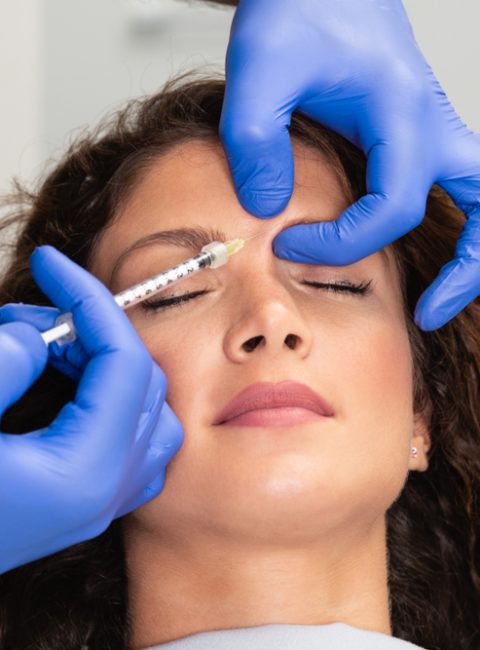 Botox in Rockville, MD
Every day, we share our thoughts and feelings with others through our facial expressions.
And each time we frown, smile, or look surprised, particular muscles contract and wrinkle the skin above.
Eventually, these repeated movements produce expression lines on the forehead, outer corners of the eyes, and between eyebrows.
Fortunately, Botox can swiftly and easily correct visible signs of aging and help turn back the hands of time – without surgery or downtime.
If you are considering noninvasive facial rejuvenation, continue reading to learn all about the benefits of Botox Rockville.
What Are the Benefits of Botox in Rockville?
Botox is one of the most-requested anti-aging treatments for its safety, efficacy, convenience, and nonsurgical nature.
When administered by a highly skilled and talented injector like Dr. Wong, Botox can smooth forehead lines, frown lines, crow's feet, neck bands, and other moderate to severe wrinkles.
It's also able to conceal a gummy smile, non-surgically lift brows, and address downturned corners of the mouth.
Best of all, Botox Rockville allows women and men to subtly enhance their appearance and look like younger, well-rested versions of themselves.
Why is it Essential to Select a Qualified and Experienced Injector?
Botox requires precise placement of small amounts of product to achieve natural-looking results.
Accordingly, it is imperative that patients seek a provider who has intimate knowledge of facial anatomy and utilizes advanced neurotoxin techniques.
Failure to do so, can lead to undesirable outcomes, like a frozen face, that cannot be readily undone.
Worse yet, getting Botox from an unqualified or inexperienced provider could result in serious complications, including eyelid ptosis, an overly arched "spock" eyebrow, or significant asymmetry.
How Long Do Botox Results Last?
Botox can achieve impressive facial rejuvenation effects for three-to-four months.
However, Dr. Wong has developed a technique that can extend the life of Botox results, allowing patients to enjoy smooth, youthful skin for longer periods of time.
Interested? Get Started with Botox in Rockville
If you are considering Botox in Rockville, please call our office today to schedule a comprehensive consultation with Dr. Wendy Wong.