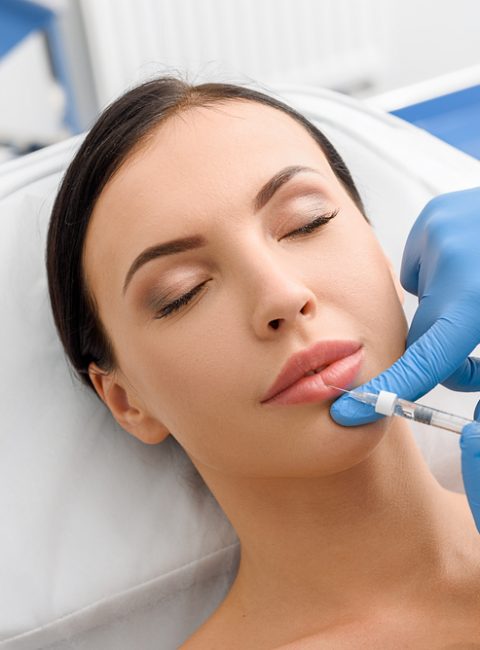 Lip Filler: Restylane and Juvederm
Whether you are seeking ultra-glam lips like Kylie Jenner, a pillowly pout like Angelina Jolie, or a subtle enhancement of your natural shape, lip fillers can help achieve your desired look.
So, which injectable is right for you? Is there a difference between Restylane and Juvederm lip fillers? How long do lip injections last?
To learn the answer to these questions and all about Restylane and Juvederm for lip filler, read on.
What Is Restylane Lip Filler?
Restylane is an FDA-approved lip filler that can plump lips and smooth lip wrinkles. It is comprised of hyaluronic acid, which is a substance that naturally occurs in skin and joints.
When injected into lips, hyaluronic acid attracts and holds water, for instant volumizing and hydrating effects.
There are two types of Restylane lip filler. Restylane is indicated for lip augmentation, and Restylane Silk is designed to diminish perioral lines and subtly enhance lip volume.
Compared to Restylane, Restylane Silk is a thinner product, made of smaller hyaluronic acid particles. This composition lends itself to smooth, silky, and natural-looking lips.
What Is Juvederm Lip Filler?
Juvederm is also a hyaluronic acid lip filler and is available in two FDA-cleared formulas.
Juvederm Ultra XC is meant to add volume to lips, and Juvederm Volbella XC is designed to treat vertical lip lines and slightly plump lips.
What's the Difference Between Restylane and Juvederm for Lip Filler?
Restylane and Juvederm are both FDA-cleared, non-invasive treatments that involve injection of a hyaluronic acid gel to produce soft and full lips. Both fillers are also capable of temporarily eliminating hard-to-treat smoker's lines above lips.
With that being said, there are several differences between Restylane and Juvederm for lip filler.
While Restylane results can be noted within a few days and typically last about 10 months, Juvederm effects are instant and last up to a year.
Additionally, Restylane costs slightly less than Juvederm. A Restylane lip filler treatment is approximately $300 to $650 per syringe. Whereas the national average for a Juvederm lip filler treatment is $650 per syringe.
Learn More About Restylane and Juvederm for Lip Filler
If you would like to learn more about Restylane and Juvederm for lip filler, please call our office today to schedule a comprehensive consultation with Dr. Wong.