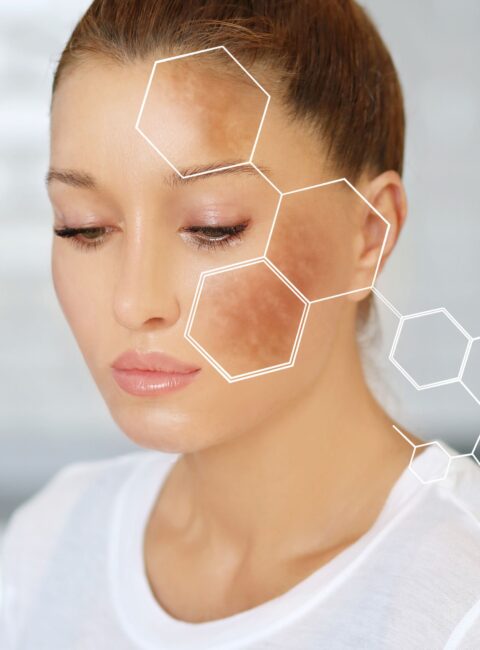 What is the Best Treatment for Melasma?
Do you suffer from melasma?  This common skin condition causes dark or discolored patches on your face.  If you feel self-conscious about your uneven skin tone, you may be wondering where you can get melasma treatment in Rockville, Maryland.
What Causes Melasma?
Before we talk about how to treat melasma, let's learn more about what causes it.  
While the exact cause of melasma is unknown, there are a few things that we know can trigger your skin to produce more melanin.  
Melasma can be caused by:
Sun exposure
Pregnancy and hormonal changes
Medications

 

Stress
Tanning beds
Thyroid disease
Top Recommendation for Melasma Treatment in Rockville, Maryland
Using the Elos Plus device, Dr. Wong can reduce the appearance of melasma and give you a more even, radiant complexion.  This device is safe to use on almost all skin tones.
The Elos Plus technology works by combining intense pulsed light and radio frequency energy to target melanin.  After treatment, the targeted cells will break down and be naturally eliminated from your body.  This treatment also stimulates collagen production.  The result is clearer skin and improved tone and texture.  
Improve Your Complexion with Color Correction
This personalized treatment means the energy wavelengths can be adjusted to address your skin concerns.  The outer layer of your skin remains undamaged and downtime is minimal.   
In addition to melasma treatment, color correction with Elos Plus can also help with freckles, redness from rosacea, broken capillaries and spider veins.
Results are gradual and many patients opt for a series of treatments to reach their desired goals.  Depending on the severity of your melasma, you may also have regular maintenance treatments.  
Doctor for Melasma Treatment
Melasma can be a stubborn condition to treat and results can take time.  The Elos Plus device has been shown to be effective in significantly reducing the appearance of melasma.  If you want to learn more about melasma treatment in Rockville, Maryland call or text 301-681-8000 to schedule your consultation.